No industry better exemplifies the scale of technological disruption than agriculture. Despite being the foundation of human civilization and a field practiced much the same way for millenia, agriculture is rapidly being redefined by new technologies collectively known as AgriTech: aerial imaging, autonomous vehicles, remote sensing of data, machine learning to optimize growth patterns, and countless other innovations. That this most basic of human businesses can be uprooted by new tech shows that disruptive technology will — and is — changing the way every industry works, everywhere in the world.
TNT, one of the most experienced agribusiness tour operators in Brazil, came to SVIC to understand the rapid technological innovations sweeping through the agricultural sector. Over the course of three multi-day immersion programs for different TNT stakeholders — among them managers, engineers, agronomists, and consultants — we showed TNT the latest research and products being developed by Silicon Valley companies. During their SVIC programs, the TNT groups met with a variety of experts, innovative startups, and big tech companies to hone in on their two key learning priorities:
How is technological innovation creating new services and business models in agriculture?
How is machine learning and artificial intelligence changing our understanding of agricultural data?
High Tech Sees the World Through New Eyes
The most immediate technological innovations in agriculture are those that address the immense labor required to bring a crop from seed to shelves — tilling, planting, watering, plucking, washing, and the like. Farming is, after all, a physical business. We've written before about how companies like John Deere, Blue River, and Naio Technologies are bringing automation and cloud computing to the hulking machinery plowing modern fields. And while the TNT groups visited companies like Tesla that are helping to drive innovations in autonomous vehicles, the delegates were most interested to learn about a loftier technology: aerial imaging.
The largest provider in the United States of aerial imagery-as-a-service for agriculture is TerrAvion. TNT heard from their National Director of Sales and Business Development on how the company's core service, OverView, is managing and processing millions of acres of agricultural land every day. In short: 13-15 times each season, a TerrAvion fixed winged manned aircraft flies over a field and produces high resolution maps showing natural color, infrared, thermal, vegetation index, and more. These images are processed and delivered to farmers overnight, resulting in up-to-date maps that reflect attributes such as soil quality, plant growth variability, and vegetative area. Farmers can integrate this data into farm management or analytics software for an up-to-the-minute understanding of their crops and yield. And as TNT was happy to learn, TerrAvion is already operating successfully in Brazil and is just as excited about forging new partnerships as TNT themselves.
Ceres Imaging takes remote sensing technology a step further. Like TerrAvion, they specialize in aerial spectral imagery via low-flying planes. Where Ceres shines, explained their Vice President of Product to the TNT groups, is in the specialized software they've developed to make sense of their multispectral images. Using proprietary image processing and crop modeling techniques, Ceres weaves together hundreds of overlapping frames into a seamless mosaic of field data. Their software can count every individual tree in an acre and has even pioneered a new technique for spectrally measuring plant transpiration — as verified by the University of California Cooperative Extension.
And Ceres' business model is as innovative as their tech: pay by the acre, or as they call it, Data as a Service (DaaS). Their scalable subscription model includes access to a team of on-demand scientists, agronomists, and hydrologists who can use the maps to help farmers improve crop management, efficiently apply fertilizer, optimize irrigation schedules, and more. This type of subscription access to technology has proved a killer business model for companies like streaming networks and car sharing services. That it's already making its way into agriculture is another sign of the industry's rapid shift to new technologies. The TNT groups were keen on exploring this new business model by partnering with Ceres once the company comes to Brazil.
Key takeaway from TerrAvion and Ceres Imaging: technological innovations pave the way for new services like aerial imaging and new business models like DaaS to enter the agricultural sector.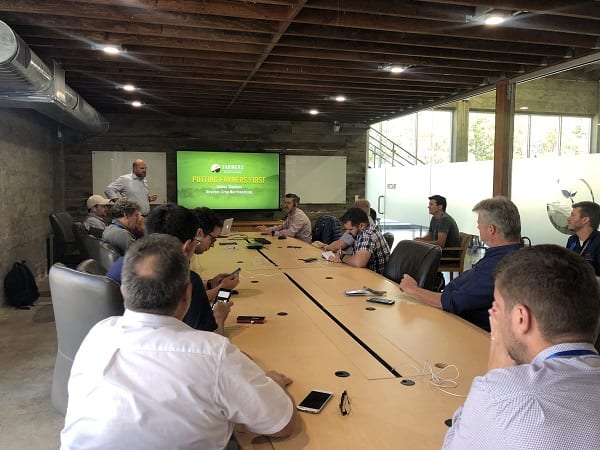 Executives from TNT, one of the most experienced agribusiness tour operators in Brazil, hear from Ceres Imaging, a data as a service field imaging company.
Digger Deeper Into Data to Change the Way We Grow
Collecting vast swaths of data is only as good as the actionable analysis that data can lead to. Enter general-purpose software: artificial intelligence and machine learning platforms that synthesize the terabytes of data produced by farming machines, remote sensors, and imaging services into meaningful insights. The TNT representatives visited companies like Trimble, Figure Eight, Granular, and the Farmers Business Network to better understand how agricultural data is being leveraged — both in specific cases and in aggregate — to yield better, stronger, faster-growing crops.
The TNT representatives saw this in action at Figure Eight, an enterprise-ready general purpose Machine Learning platform. An Account Executive at Figure Eight shared with the TNT groups the company's Human-in-the-Loop (HitL) model, which allows their employees to take any set of data — for example, months of aerial field imagery — and train a custom AI algorithm to process that data in a targeted way. That could mean automatically recognizing subtle problems in vegetation or almost anything else: tracking objects in videos, predicting maintenance for industrial machinery, categorizing products in eshops, creating intelligent chatbots, and so on ad infinitum. As the set of data grows — Figure Eight has already generated over 10 billion training labels — the power of machine learning for all their clients, in any context, grows with it.
TNT saw the power of aggregated data firsthand at the headquarters of Farmers Business Network (FBN). FBN is an independent network of thousands of farmers who, by anonymously sharing their agronomic precision data, can unlock the analytical insight provided by over 8 million acres of American farmland. FBN's platform utilizes data science, machine learning, and billions of data points to democratically share objective, unbiased information throughout its network. This aggregated data helps farmers better understand their seed quality, soil fertility, crop values, and more. Though FBN hasn't yet extended to Brazil, its democratic aggregation model knows no geographical boundaries — and the TNT groups were curious about setting up similar programs and services in their own country.
Key takeaway from Figure Eight and Farmers Business Network: in AgriTech as in other technologically disrupted industries, the aggregation and machine analysis of data is key to unlocking operational efficiencies.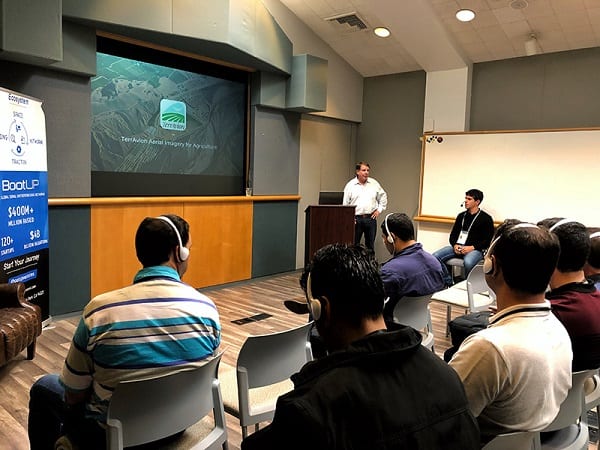 Executives from TNT listen in during a presentation from TerrAvion, the largest provider in the United States of aerial imagery as a service for agriculture.
Sunny Skies and Fertile Soils for TNT and AgriTech
The emerging field of AgriTech is only the latest in a long line of traditional industries being disrupted by new technologies. As computer processing power continues to increase alongside the capability of artificial intelligence, it's inevitable that the resulting technologies — autonomous machinery, remote sensor subscription services, general-purpose data aggregation and analysis platforms — begin to take root in businesses everywhere.
TNT, sensing these changes on the horizon of the agriculture industry, came to SVIC thrice over to understand the new technologies redefining their business. By meeting with the startups and technology companies leading the way in AgriTech, TNT took home valuable insight into how to grow their business for the future — as well as potential partnerships in TerrAvion and Ceres Imaging. For TNT, the field of AgriTech is ripe for the picking. They're ready to harvest.
Want to take a deep dive into the technological disruption sweeping through your own industry? SVIC has custom immersion programs tailored to every level of management and sector of the economy.